Albums
Singles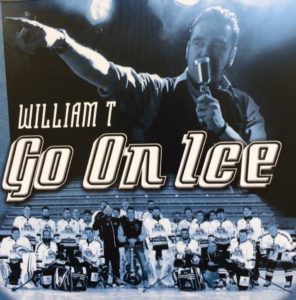 BIOGRAPHIE
🇩🇪 Seit 2004 spielt der frühere Solo Künstler und ElvisImpersonator WILLIAM T mit seiner Band The Black 50's und hat zusammengenommen weit über 20 Jahre Bühnenerfahrung.
Auftritten beim dem Good Rockin' Tonight Festivalin Frankreich, dem Uferlos Festival Freising(D), dem Rock'n'Roll Weekenderin Walldorf (D), der Rockabilly Convention in Pullmancity (D), verschiedenen Tattoo- und Harley Conventions,  Andreas Gabalier support Band in Bruneck (Ita) und Aftershow Party in Kitzbühel (A), Anastacia Aftershow Party in Samnaun (CH) sowie Bestplatzierung bei diversen Elvis-Festivals und Band-Conventions und in diversen Internationalen Radiosendern zu verdanken, dass WILLIAM T, längst über die Grenzen seiner italienischen Heimat hinaus bekannt ist.
Im Jahre 2014 gewann er mit seiner Band beim International Rockabilly Contest in Deutschland einen Plattenvertrag.
Darauf folgte sein 2. Album "Shake It Baby", darunter 9 selbstgeschriebene und komponierte Songs.
Im März 2017 erscheint seine Single samt Musikvideo "Go On Ice", gewidmet an sein Lieblingssport Eishockey.
2018 erscheint dann das neue Album "Rock'n'Roll Baby" mit allen selbstkomponierten Songs, darunter drei auf Deutsch.
BIOGRAPHY
🇺🇸 Since 25 years, the musician from Merano (Italy) has been inspiring his fans far beyond the borders of South Tyrol. His music is influenced by idols like Elvis Presley, Jerry Lee Lewis, Ricky Nelson, Carl Perkins and last but not least the man in black mister Johnny Cash. In 2004 the solo artist and Elvis impersonator founded the rock'n'roll band William T and the black 50's. Over the past 20 years, they gained stage experience at various Rock'n'Roll and Rockabilly festivals, including the Good Rockin' Tonight Festival in France, the Uferlos Festival in Freising (D), the Rockabilly Weekender in Walldorf (D), the Rockabilly Concention in Pullmann City (D) and the Rockabilly on the Rocks (Switzerland). Numerous Harley and Tattoo Conventions, as well as top placements at several Elvis festivals enrich the band's curriculum. In 2014 they won a record contract at an international Rockabilly Contest. The 2 album (Shake it Baby), in contrast to the first album (That's it ), contains nine self composed songs. The third album (Rock'n'Roll Baby), released in 2018, contains exclusively own written songs including three German-language songs. In addition to their own summer and winter tours, they also gather experience on big stages and have played with music greats such as Anastacia, Andreas Gabalier and The Boss Hoss as support band and several at aftershow parties.