Seit Juni 2023 ist William Markenbotschafter für BMW Motorrad R18 Bagger. Mit dieser prestigeträchtigen Position hat er die einzigartige Gelegenheit, die Vorzüge und Innovationen des BMW Motorrad R18 Bagger einer breiten Öffentlichkeit näherzubringen. Als Botschafter wird William die Leidenschaft für das Motorradfahren teilen und die außergewöhnlichen Eigenschaften des R18 Baggers hervorheben, sei es seine kraftvolle Leistung, das elegante Design oder die neuesten technologischen Fortschritte. Diese Zusammenarbeit verspricht aufregende Zeiten für Motorradfans und BMW-Enthusiasten gleichermaßen, da William seine Leidenschaft für das Fahren und die BMW-Marke in die Welt hinausträgt.
William has been a brand ambassador for BMW Motorrad R18 baggers since June 2023. With this prestigious position, he has the unique opportunity to bring the advantages and innovations of the BMW Motorrad R18 Bagger closer to a broad public. As an ambassador, William will share the passion for motorcycling and will highlight the exceptional qualities of the R18 Bagger, be it its powerful performance, elegant design or the latest technological advances. This collaboration promises exciting times for motorcycle fans and BMW enthusiasts alike as William takes his passion for riding and the BMW brand out into the world.
__________________________________________________________________________________________________________
2023 und 2024 sind zwei besondere Jahre für William T. Am 28. Oktober 2023 feiert er sein 30-jähriges Bühnenjubiläum, zeitgleich mit der Veröffentlichung der ersten Single "LIKE THE KING" aus seinem kommenden Album das 2024 erscheinen wird.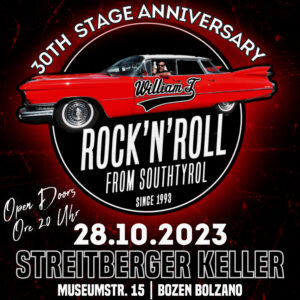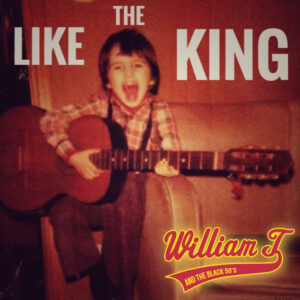 Im Jahr 2024, am 14. Februar, feiert die Band ihr 20. Jahr Bandgeschichte.
2023 and 2024 are two special years for William T. On October 28, 2023, he will be celebrating his 30th stage anniversary, coinciding with the release of the first single, 'LIKE THE KING,' from his upcoming album (set to be released in 2024).
In 2024, on February 14th, the band will mark its 20th year of band history.